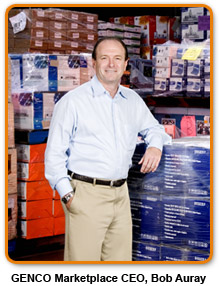 About GENCO Marketplace
GENCO Marketplace is one of America's largest merchandise liquidators. Our liquidation inventory includes wholesale customer returns, closeouts, refurbished products, and other liquidation merchandise.
History
Subsidiary of GENCO, a Product Lifecycle Logistics company founded in 1898. GENCO is North America's 2nd largest and a global Top 25 third-party logistics company and the recognized leader in reverse logistics. We entered the merchandise liquidation business in 1992 when our reverse logistics customers asked us to liquidate the customer returns we were processing.
Products
Because most of our liquidation contracts are with large retail chains and online retailers, our product selection is large and varied. If it's sold at retail, chances are we sell it.
Customers
Range from small online sellers who purchase single pallets for eBay inventory to other merchandise liquidators who regularly purchase multiple truckloads.
Locations
Unlike other merchandise liquidators, GENCO Marketplace has liquidation merchandise located throughout the U.S., allowing customers to source inventory nearby to reduce freight costs.
Surf the links below to learn more: